Rev. Dr. Kristin Hansen, Pastor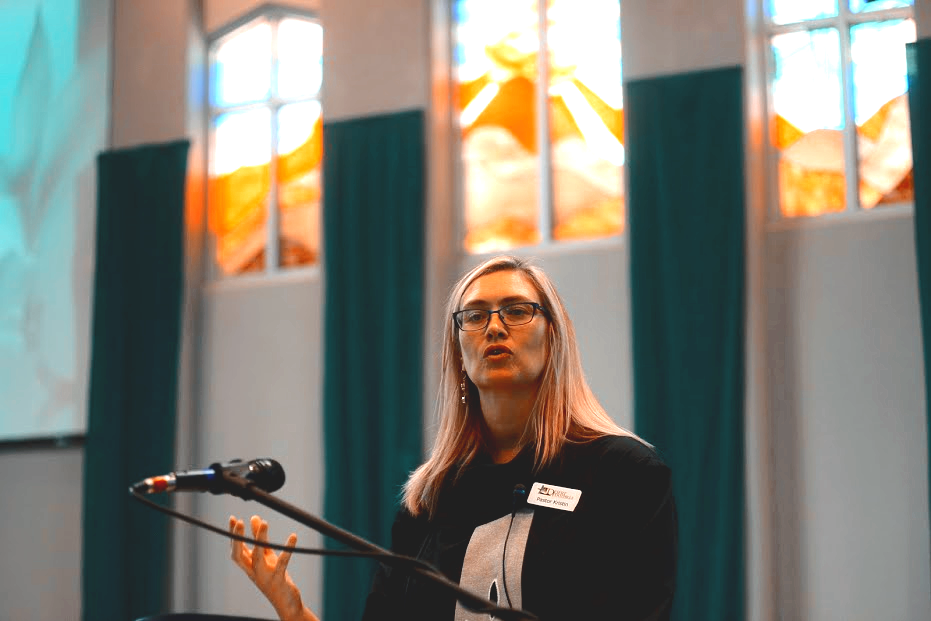 About Pastor Kristin

Kristin grew up mostly in Indiana but was born in Germany while her dad was in the Army. As he transitioned out, they lived in Georgia, Michigan, and Indiana. In college she studied for a year in Prien Am Chiemsee, Germany, at the Goethe Institute and in Austria at the University of Vienna. Then after college she lived in Mansfield, Ohio; back to Anderson, Indiana; and out to San Francisco, California. Of course now she lives in Arizona with her husband Christian, daughters Heidi and Anna, and step-daughter Danielle. She spends most of her time traveling from one good thing to the next, starting new adventures, and publically contemplating what is most important in life.

She graduated from Anderson University and School of Theology and completed her Doctor of Divinity at George Fox in Oregon with Rev. Dr. Leonard Sweet with her specialty in innovation and risk in business and religion. If you want to be really official, you can call her Rev. Dr. Kristin D. Hansen. But she does prefer Kristin or Pastor Kristin.

A couple of favorites:
Laughing, sci-fi shows, yoga and walking, cactus (*or cacti), languages, video gaming, state fairs, singing, making mistakes and learning from them, fireworks, deep conversation, new experiences, and eating gluten-free.

"I've never had a female pastor. Can you do that?"
It was a warm, damp night in the South while I was officiating a wedding when I was first asked this question. I grew up around people who believed women were amazing. And the church I grew up in never even had to talk about it. Women served alongside men and in charge of men. Men respected women and women respected men. And I couldn't tally the number of female pastors and leaders I have known in my life. So I really didn't know how to answer. I simply said, "Well, here I am." The questioner wasn't being mean or judgmental. In fact, it was a man who didn't go to church at all. And by the end of the night, he told me he was so amazed and appreciative and that he would go to my church if it were in the area. And then he tipped me. :-)

God has called me to be a pastor and I say "Yes!" to God's call by loving God and being in deep relationship with people I meet, no matter who they are or how I know them. I believe we are not alone. You are enough, just as you are. God loves you always, no matter what. God doesn't leave us where we are, but God gives us a vision for something better, more amazing than what we could ever dream ourselves. And we come together to church and we tell others about all of this because we need to remember it ourselves and others need to know that they are enough and they are loved by God.