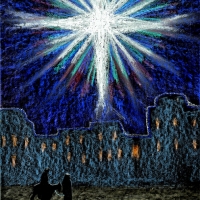 Christmas Eve Services
November 15, 2017
Christmas Eve Services
Christmas Eve is on a Sunday this year, which means we will be having one morning worship service and two Christmas Eve services that evening. This only happens on a Sunday every seven years, so we hope you bring your friends, neighbors & family to the morning and evening services!

10:00AM Morning Worship, Carols, and Christmas Preparation
Join us for our regular worship service with a Christmas Eve morning twist! Our contemporary band is leading this service while we prepare ourselves for the joy of Christmas Eve.

5:00PM Glowsticks, Families, and Cookies
The children and youth of DFUMC will lead us by telling the story of the birth of Jesus. This service is kid-oriented and family friendly. Worship concludes with candlelight from glow sticks! After the service join us for cookies and chilled apple juice

7:00PM Carols, Candles, and Communion
Service with Holy Communion, choir and traditional carols. Worship concludes with candlelight. Stay for cookies and hot apple cider after service!

Childcare available in the nursery at all services.

Back