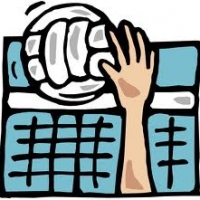 Adult Volleyball
By Office | April 25, 2017
ALL DFUMC Adults and FRIENDS – IT'S TIME TO SIGN-UP FOR THE SUMMER UMC VOLLEYBALL
League matches start at the beginning ofJune and run through end ofJuly. All regular season matches will be played on Monday evenings (7 &/or 8pm) on indoor courts at 1st Mesa UMC. End of Season Tournament in early August.
Practices are planned for Sunday evenings 7:30-8:30pm at Desert Foothills Park ( SW of Chandler Blvd and Desert Foothills Pkwy).
Please sign-up by contacting Dwight Daniels at Dwight.d@cox..net so that we know how many teams we will be entering. If possible, let us know your planned vacation/absences, so we can plan the team/s accordingly.
Let's serve up some serious fun!
Back